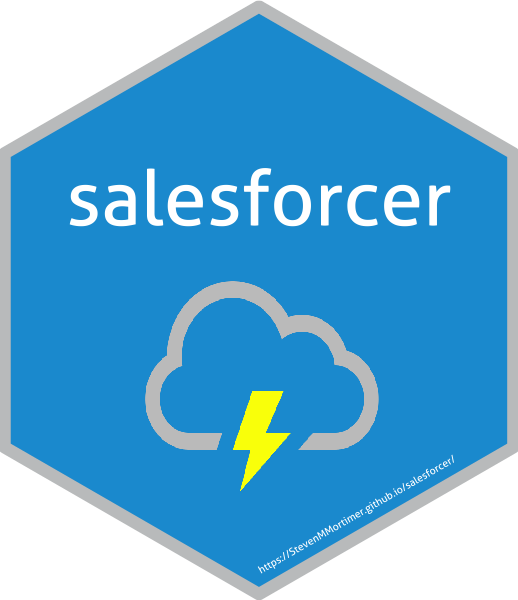 salesforcer is an R package that connects to Salesforce Platform APIs using tidy principles. The package implements most actions from the SOAP, REST, Bulk 1.0, Bulk 2.0, and Metadata APIs.
Package features include:
OAuth 2.0 (Single Sign On) and Basic (Username-Password) Authentication methods (sf_auth())
CRUD (Create, Retrieve, Update, Delete) methods for records using the SOAP, REST, and Bulk APIs
Query records via the SOAP, REST, and Bulk 1.0 APIs using sf_query()
Retrieve and modify metadata (Custom Objects, Fields, etc.) using the Metadata API with:
Utilize backwards compatible functions for the RForcecom package, such as:
Basic utility calls (sf_user_info(), sf_server_timestamp(), sf_list_objects())
Functions to assist with master data managment (MDM) or data integrity of records by finding duplicates (sf_find_duplicates(), sf_find_duplicates_by_id()),
merging records (sf_merge()), and converting leads (sf_convert_lead())
Recover (sf_undelete()) or delete from the Recycle Bin (sf_empty_recycle_bin()) and list ids of records deleted (sf_get_deleted()) or updated (sf_get_updated()) in a timeframe
Passing API call control parameters such as, "All or None", "Duplicate Rule", "Assignment Rule" execution and many more!
Installation
# install the current CRAN version (0.1.3)


install.packages(

"salesforcer"

)



# or get the latest version available on GitHub using the devtools package




# install.packages("devtools")


devtools

::

install_github(

"StevenMMortimer/salesforcer"

)
If you encounter an issue while using this package, please file a minimal reproducible example on GitHub.
Vignettes
The README below outlines the basic package functionality. Review the vignettes for more detailed examples on usage.
Future
Future APIs to support:
Credits
This application uses other open source software components. The authentication components are mostly verbatim copies of the routines established in the googlesheets package (https://github.com/jennybc/googlesheets). Methods are inspired by the RForcecom package (https://github.com/hiratake55/RForcecom). We acknowledge and are grateful to these developers for their contributions to open source.
More Information
Salesforce provides client libraries and examples in many programming langauges (Java, Python, Ruby, and PhP) but unfortunately R is not a supported language. However, most all operations supported by the Salesforce APIs are available via this package. This package makes requests best formatted to match what the APIs require as input. This articulation is not perfect and continued progress will be made to add and improve functionality. For details on formatting, attributes, and methods please refer to Salesforce's documentation as they are explained better there.
Get supported salesforcer with the Tidelift Subscription